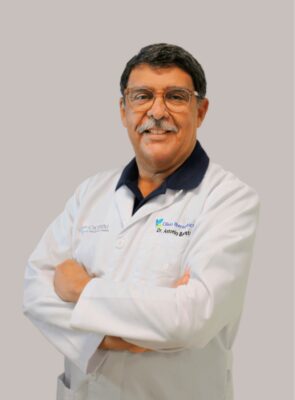 Antonio Ballestas, Colombia
M.D. – 1982 – Universidad Libre Barranquilla, Colombia
ENT (Otolaryngologist) – 1987 – University of Costa Rica, Costa Rica
Fellowship in Otology – 1988 – Bordeaux University, France
Mini Fellowship in Laryngology – 2012 – Emory University, USA
Dr. Antonio Ballestas is an ENT surgeon with more than 30 years of experience providing care to his patients. He founded Voicefem – Voice Feminization Colombia in 2014, pioneering voice feminization surgery in Latin America with a modified Wendler Glottoplasty technique, changing the lives of hundreds of patients.
Dr. Ballestas completed his residency in 1987 in University of Costa Rica and his fellowship in 1988 in Bordeaux University in France. He completed a mini-fellowship in Laryngology in Emory University in 2012 and has been a visiting doctor at Harvard University (USA), Hospital San Lucas (Brasil) and Hospital Quiron (Spain).
Dr. Ballestas has published his work in the Journal of the Colombian Ear Nose and Throat society. His work has been presented in USA, Colombia, Brasil, Argentina and Germany among others. He has served as president of Colombia's Atlantico ENT Society .
Memberships & Publications
ACORL (Asociación colombiana de Otorrinolaringología) (Colombian Otolaryngology Society)
ACORL Laryngology Section
ASORLAT(Asociación de Otorrinolaringología del Atlantico). (Atlantic Otolaryngology Society) (Former president)
Voice Feminization Surgery with Wendler Glottoplasty Technique: Latin American 6th Laryngology and Phonosurgery Congress  Sao Paulo, Brazil
Voice Feminization Surgery with Wendler Glottoplasty Technique: Brazilian national Otorhinolaryngology Congress Fortaleza, Brazil
Voice Feminization Surgery with Wendler Glottoplasty Technique: Panamerican Otorhinolaryngology Congress 2016 Havana, Cuba
Voice Feminization Surgery with Wendler Glottoplasty Technique: Latin American 7th Laryngology and Phonosurgery Congress, Punta del Este, Uruguay
Voice Feminization Surgery with Wendler Glottoplasty Technique: World Phonosurgery Congress 2019, Buenos Aires, Argentina
Voice Feminization Surgery with Wendler Glottoplasty Technique: Trans*Voice Symposium – 2022, Berlin, Germany
Voice Feminization Surgery with Wendler Glottoplasty Technique: Emory University School of Medicine Department of Otolaryngology-Head and Neck Surgery Grand Rounds 2018, Atlanta, United States
Poster Presentation:
Voice Feminization Surgery – The Colombian Experience, The Fall Voice Conference – 2021, Miami, United States